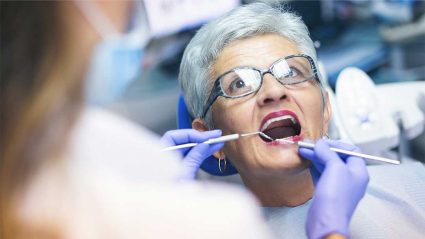 Dental Insurance for Seniors on Medicare…sadly, is very limited at best. Medicare Dental coverage is almost nonexistent and that is a real problem.
How many times did your mom or dad ask you as a child… "did you brush your teeth?" How many times did you hear the hygienist at the dentist office ask "have you been flossing? Your gums are bleeding."
Most of us have been brought up with the idea that we need to take good care of our teeth. All of this advice is certainly very important, especially as we get older. As we age, dental issues become a greater challenge to stay on top of. In general, dental care expenses in most cases will rise. Here are a few of the common problems that seniors can experience, according to the National Institute of Health:
Cavities
Gum disease
Tooth loss
Oral cancer
Facial pain
This list doesn't even cover all of the the diseases that can be caused by dental problems. There is evidence that it can lead to an increased risk of cancer or heart disease, not to mention embarrassment and lack of self confidence from missing teeth that inhibit a confident smile.
Now the trouble is…
While Medicare covers a lot of healthcare issues, it does not cover most dental care. For more information on your possible alternatives read this article.
Now, Medicare will cover care if you sustain a broken jaw if you are in an accident, but not the actual cleaning or tooth extraction.
Does Medicare pay for dentures?
No. Sorry to say…dentures are not covered.
So what you have as a recipient is very limited and not well rounded and/or preventative dental care.
Best Medicare Dental Plans? What Are Your Medicare Dental Plan Options?
Bad news here folks!! If your looking for the best dental insurance for seniors on Medicare, you need to look at private insurance plans.
Why?
Original Medicare does not offer typical dental coverage. However, some folks choose Medicare Advantage (Part C of Medicare) which may include some respectable dental benefits in HMO and PPO networks.
A little off topic but Medicare Advantage is not traditional Medicare.
Yes, I know it sounds like it but actually…
It is privately administered health care coverage offered by insurance companies or healthcare companies as an alternative to Original Medicare. If chosen by you at AEP or OEP, your Medicare premiums that are deducted from your Social Security are sent to the private, Medicare Advantage provider you have chosen. Medicare is not keeping monies for coverage as they would under "Original Medicare."
Tuck that you red, white and blue Medicare card away in a safe spot, but you will not need it unless you are on Original Medicare.
Since Medicare Advantage plans are different, private Medicare Advantage insurance companies may or may not offer quality dental coverage in the private programs they have created. You would have to check within the benefits coordinator of the plan to verify. Be sure to review all benefits and limitations built into a Medicare Advantage plan.
As a senior, Original Medicare offers broader based healthcare from providers, but it is not without some limitations, even if you have a Medicare Supplement.  A Medicare Supplement only benefits you if Medicare approves the claim first.
Having access to the top providers under Original Medicare does come with some sacrifice. Original Medicare has 3 main weaknesses: Dental, Vision and Hearing benefits.  A Medicare Supplement makes no difference with these holes in coverage.
For those who have elected to go the Medicare Advantage (MA) route, you may have a few perks that pick up some of your dental insurance needs.
Be sure to look at the extent of the dental coverage though. Don't assume anything. It may not be the best by any means. There are no Medicare guidelines for dental care in a MA offering.
Does it cover majors such as crowns and/root canals or just items like cleanings and x-rays? If so, how much?
Dentures, a major… that is something to verify as well.
So Where Does This Leave You With Dental Insurance?
The good news is that affordable and arguably the best dental insurance for seniors on Medicare is not hard to obtain. This type of traditional insurance will cover the preventative items such as cleaning or basic services as well as the major services.
The top offerings will also include vision and hearing coverage and allow you to see any provider you wish rather than a network provider. As a senior you realize that all of these tend to deteriorate with age and qualified care is often needed.
Until the government takes some real action (don't hold your breath), taking steps to resolve your dental coverage needs might make sense.
So, as a senior, the choices you have…either your on Original Medicare which offers full control of your healthcare providers or a private network (PPO, HMO) managed by a for profit company such as Humana, United Health Care etc. This is NOT Medicare Supplementation.
If you are on Original Medicare (largest majority of people) then you may already know that Medicare is not your "dental, vision and hearing coverage."
Even if you are or will be receiving dental care through a Medicare Advantage (Part C) plan, you still may find you are better off with a private dental plan.
What specific dental services are covered in your Medicare Advantage plan?
Does it provide other valuable services like Vision and Hearing in the coverage?
I'm On A Fixed Income. What Are My Options
The Best Dental Insurance For Seniors On Medicare
Quality senior dental insurance will deliver extensive coverage you can use for cleanings, fillings, x-rays, crowns etc.  It will allow the covered individual can go to any provider of their choosing. You should expect a good senior dental policy will include:
Preventive services – Semi Annual exams, cleaning and x-ray services
Basic services -Additional X-ray, filling and tooth extractions
Major services – Crowns, bridges, full or partial dentures and root canals
While cleaning and x-ray coverage is nice, that is a small cost relative to the others.  A crown can be $1000 quite easily.  Make sure your insurance has you covered especially if you have had your share of dental problems in the past. Make sure your dental provider participates in any network the insurer uses. If your provider does not participate with a certain network, you may want to look to an alternative insurance company even if the policy itself is very good. This will reduce the cost you may be responsible for. Participating providers have accepted the terms of a certain network to not charge beyond the approved amount for each service rendered. The largest networks are offered by Delta Dental and Carington in my experience. If you are firm on sticking with your dentist, their is a good chance your provider is in one or the other.
The best dental insurance for seniors will not discriminate on your dental history or the provider you would like to go to.
In summary, you have a couple of different options to obtain the best dental insurance plans for seniors:
Medicare Advantage (MA) plans (Part C of Medicare)
An individual private insurance company policy.
Option 2 has nothing to do with Medicare and is most often superior. Which one is best for you is going to be tied directly to your healthcare values and financial position.
In terms of the best dental insurance for seniors, we utilize 3-4 typical carriers. However, it really depends upon what you want from your coverage.
Review and take note of all the coverage you have now.
Is there an out-of-pocket maximum?
Is there an annual maximum benefit?
What is the waiting period for services?
What services are covered in the first year?
You will want to know:
What is the monthly cost?
Do I have a deductible? If so, how much?
Is there co-insurance (i.e., the cost of a procedure)?
What is the co-pay?
What If the Best Dental For Seniors Also Includes Coverage For Vision and Hearing?
The top dental insurers are also offering full vision and hearing insurance packaged in one premium insurance policy now. These policies allow access to a pool of money that can be applied to either dental, vision and hearing interchangeably throughout the year. Eye glasses and hearing aids are not cheap. Having coverage for all 3 in a very affordable policy really does round out most seniors insurance needs when combined with Medicare and a Medicare Supplement.

The Next Steps
The question of dental coverage under Medicare comes up in Congress every now and then. It has not gained very much traction. Right now only "medically necessary" services are covered.
An example… if you need dental services before radiation treatment for mouth (oral) cancer, you may qualify. Otherwise, your options under Medicare are very, very limited.
However, you don't let your dental health go down the tubes.
You can still obtain very good senior dental insurance outside your Medicare plan that even includes vision and hearing coverage.
Check with us regarding the options in your state. Not all policies are available in every state so I cannot mention a specific products here. Give us a call, we can talk about your needs and get you a quotation.
Unless you have very deep pockets, the first step to managing the cost of the best dental insurance is making sure you are not being overcharged on other insurance. Examine what you are paying for your insurance portfolio. Homeowners or renters, automobile and even your health insurance.
Most seniors we work with are on a fixed income.  Are you in that situation yourself? Can you afford to pay hundreds of extra dollars a year for the same thing? Do you really want the best dental insurance for seniors? Saving money on your other insurance is a simple way of funding a good dental plan that even includes vision and hearing!! You can expect a ballpark cost to be about $50/mo per person, depending on your age and state of course…if you want the best.
Conclusion: Best Dental For Seniors On Medicare
There are a few quality dental options for seniors are out there right now. Some are more feature rich than others. The premium dental, vision and hearing plans will be more expensive because the benefits are just clearly superior.
Again, these are not Medicare dental plans.
These are from private insurance companies and not regulated by Medicare.
The best dental for a senior citizen should also include vision and hearing coverage in one tidy, affordable policy. This will allow you to use your benefits among all 3.
Remember, Original Medicare is not going to pay for any of these services.
Senior dental policies certainly fill the void in Original Medicare where it is lacking while rounding out your retirement healthcare benefits.
You should be able to see most dental, vision or hearing providers of your choosing with a top insurance policy. We see no reason why not to recommend otherwise unless your budget does not allow it.
Trying to plug holes in Medicare can be frustrating.
Dental needs, vision problems or a loss of hearing are very, very common.
Get all your Medicare questions and concerns answered. Discuss any current dental coverage and get some feedback on what might be best for you to manage your insurance costs. Affordable Dental insurance for seniors is available.
We have complete solutions here at Maple Valley Insurance Group.  Contact us @ 269-244-3420 to see how we can help you solve your dental insurance needs and save money on your senior insurance. 
No more worries about big dental bills with the right policy.
If you have questions or comments about this article, feel free to leave it below. We try to respond as quickly as possible.