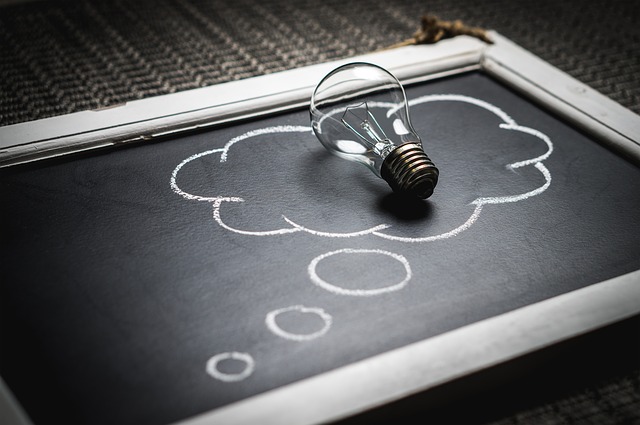 So if you are reading this article here today, I am going to assume you are a senior wondering if AARP life insurance is affordable. AARP term life insurance for seniors is actually provided by New York Life. AARP is just a sales organization marketing a life insurance product and is in no way an insurance company. All claims, term life rates and approvals are handled by NYL.
If you know specifically how many years you need financial protection for, then a appropriate term life insurance policy can fit that bill. An important key here…. don't use term life insurance to plan funeral and burial expenses. Big mistake. Too many people have gotten caught trying to look into the crystal ball and found out the hard way that term coverage was the wrong choice. Term life insurance is designed for the unexpected, not certain, end of life expenses.
Before you look at the AARP term life insurance rates below, be sure to use our instant term life insurance quote tool located on this page. In 1 minute or less you'll have the top rates for term life insurance from the most competitive companies in the industry.
You are going to want to have this information before continuing.
What I am about to unveil here regarding the senior AARP term product is likely to be disappointing and potentially shocking!
Why You Need to Be Cautious With AARP Term Life Insurance Rates
In speaking with a tremendous amount of seniors over the years about life insurance, the largest problems we hear are the complaints related to the experience of owning certain types of term life insurance.
Specifically, the cost is not level for the life of the policy. This is known as the "term of the policy." Yes, rates do expire with any term policy after a preset number of years. However, some term policies go up in price as you own them nor are the rates guaranteed in writing. Some term policies automatically terminate at age 80 or even sooner.
Many people also do not realize term policies have NO cash value, ever. Not that cash value is a benefit everyone needs, it is however, important to understand the limitations of any life insurance policy and what you are paying for.
If you are looking for cash value or planning for end of life expenses, this is the wrong type of life insurance. You should be looking at whole wife insurance…something where there is a permanent guarantee of financial protection for your loved ones.
You see…
Term insurance is temporary life insurance…you are renting it most often on a monthly premium basis for 10, 20 or 30 years commonly. When the "term" ends, then 1 of 2 things occur. First, the premium will go up drastically or second, the policy just terminates.
Mentioned this earlier, but some term life insurance policies go up in cost at regular intervals and have no written guarantees that those rates are locked in. This is typically a low grade policy that can be a financial trap in the making.
AARP/NYL seem to have adopted a philosophy of selling this type of term life insurance to seniors.
To top in off, in their term life insurance offering… you cannot apply for coverage after you have reached the age of 75.
What does that mean?
Well, you will be denied the AARP term life insurance rates regardless of your health at that point. You must be accepted prior to age 75.
The problems of this policy continue…
Term life insurance from AARP terminates at age 80.
In other words… after your 80th birthday, you cannot continue for any reason on this policy.
However, you are allowed to change to a whole life insurance policy at any time and either accept the much higher premium at your current, attained age or request a much smaller policy. Whole life insurance at age 80 is quite a bit more expensive than 65 or 75.
How many people do you know who have lived beyond age 80? I know a lot of people personally and have plenty of clientele who have lived to 90.
FYI, all quality term life insurance policies offer a conversion privilege in them in the event you wish to buy permanent, lifetime protection. The best term life policies allow seniors to convert their term life insurance to either whole life insurance or guaranteed universal life insurance (GUL). GUL tends to offer "term like" insurance rates on a permanent basis. Unfortunately, AARP does offer such a GUL feature in their product on top of the expiration at age 80.
AARP term life insurance rates and benefits for seniors are nothing short of unimpressive.
Why?
First of all, the cost of insurance goes up every 5 years, period. Second, youu cannot apply for coverage after you reach the age of 75.
Here is the kicker. None of the rates are guaranteed! At the time you make application you will see the projected cost in the 5 year age block. However, once you read the fine print it is clear that NYL has the right to raise the cost of the premiums on all the policyholders of the AARP term insurance. No written guarantees for seniors on a fixed income.
Why not just have a level premium for the life of the policy?
Ladies and gentlemen, this is not a high quality policy.
Further, it seems to have a lot of limitations for those who need larger policies. $100,000 is a small term policy to be honest. Smaller policies are generally for burial insurance and those should never be funded by term insurance that can expire prior to death. Term insurance is only for a known, defined period of time.
How much coverage do you need? Do you want to have your premiums rise every five years or more until you get frustrated and potentially drop it? Who does that help? NYL and AARP certainly appreciate the endowment they received when their policyholders drop the policy early.
I am sure you do not intend to drop your policy, but be sure you understand the realities and limitations of the policy you are researching. Those AARP term life teaser rates can become frustrating rates down the road. I have heard plenty of stories from upset people who thought they found "a good deal."
Actual 2020 AARP Term Life Insurance Cost
Quotes provided below were taken directly from the NYL/AARP website on a fictitious 65 year old male, non tobacco user for term life insurance. Please be sure to carefully read the fine print below the quotation.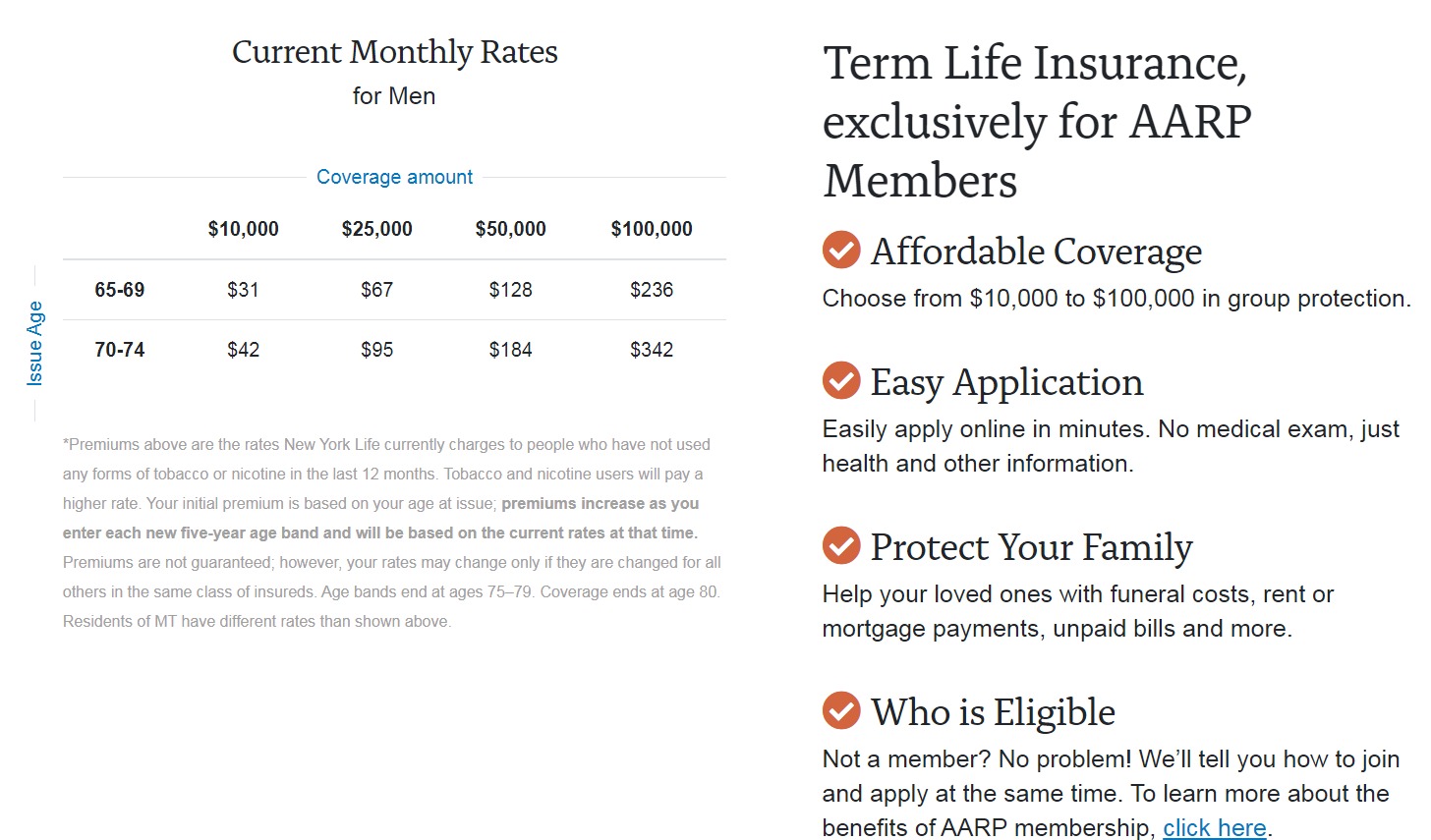 Next we have quotes below directly from the NYL/AARP website on a fictitious 65 year old female, non tobacco user for term life insurance. Please be sure to carefully read the fine print below the quotation. This is as important as the rates.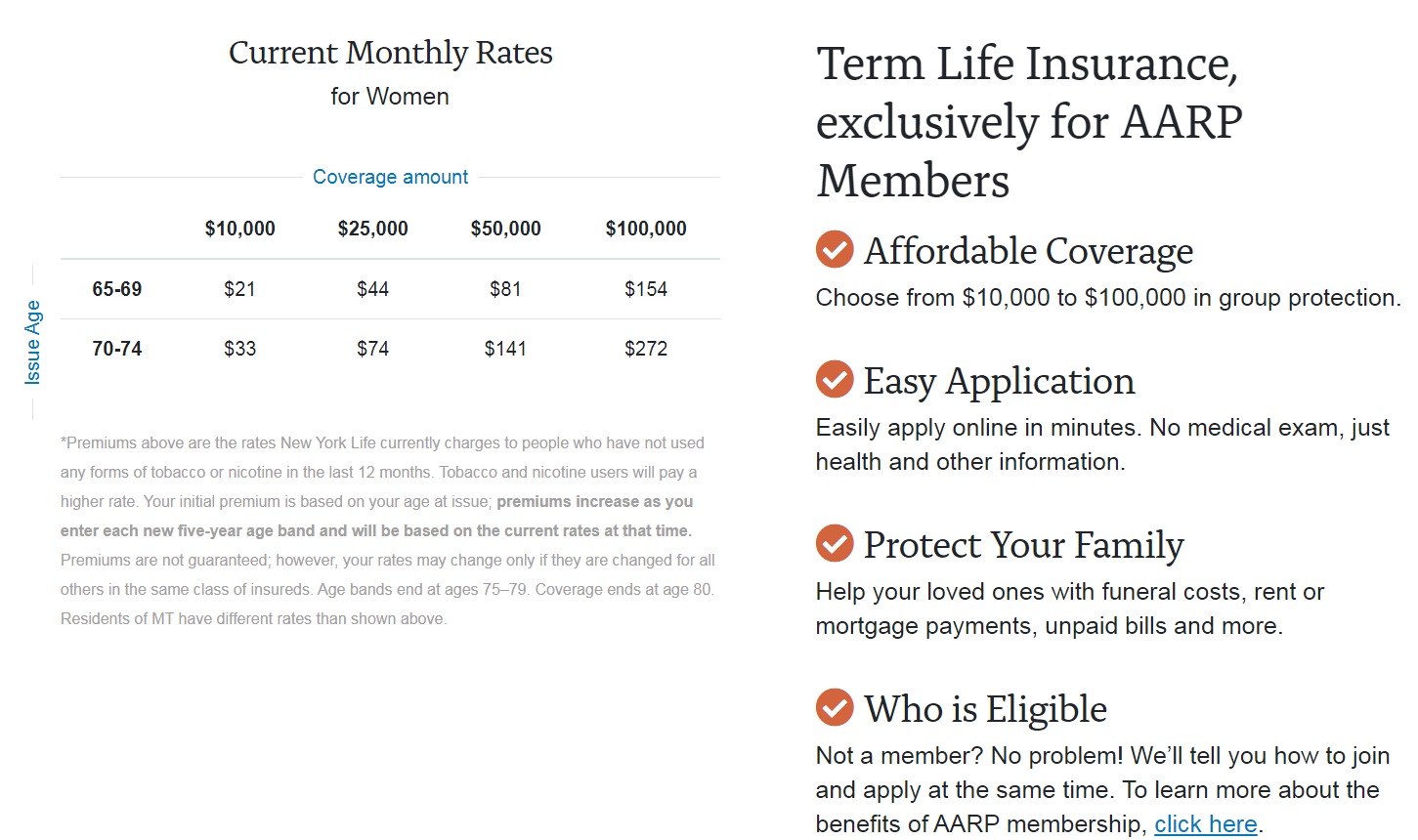 Term Life Insurance Rates from AARP – The Real Truth
You may have noticed that there are no rates provided by AARP/NYL for the people age 75-79 who have this policy with them. This is where most policyholders are "shaken out" by another massive rate increase. Imagine your AARP term life insurance rates nearly doubling every 5 years until it terminates.
One other objective of this article is to educate you on why shopping for term life insurance based on familiarity is not a good idea.
Just a few days ago, I spoke with a 69 year old man with 3 very significant health conditions. He requested a $500,000, 10 year term life insurance policy. Unfortunately his 3 health conditions significantly impacted his premium. Asthma and Diabetes combined with the lingering threat of COVID-19 are not a good combination. However, I was able to get him an offer of $534 per month for the next 10 years for $500,000 of coverage with guaranteed level premiums and death benefit. This was obtained from a very reputable, A+ financially rated (according to A.M. Best) life insurance company. That same gentleman would pay $272/mo minimum for just $100,000 at age 70 with the AARP/NYL product. Don't forget, AARP rates go up at least every 5 years. This is certain. The fine print tells the truth.
The better alternatives, well….
Top life insurance carriers lock those rates in for the life of the policy term. $272 dollars would buy my new, ficticious client roughly $250,000 of 10 year term life insurance with absolutely no rate increases written into the policy. Ponder for a moment how much it would cost you for $100,000 of protection from AARP/NYL. Remember, those premiums go up significantly every 5 years to top it off!!
AARP Term Life Insurance For Seniors – Is This A Good Deal or Not?
I hope you realize that this term life insurance policy from AARP is not a great benefit offered just for being a member of the association. It is something they sell to their members. The question is, should you buy what they are selling?
The reality…
AARP term life insurance is not a premium product by any means. Frankly, I think it reflects poorly on the association for numerous reasons.
Yes, you must be a member to apply for this policy.
My first question to you is…
Why would you elect to purchase a policy without value built into it? All this policy guarantees is that NYL will pay the predetermined death benefit as long as you pay the cost of insurance based on a premium which is not guaranteed either.
My next question to you…
Why not have term life insurance which guarantees your premium for the number of years you want and in the size of policy which you need?
In my experience, most seniors get caught assuming that AARP will offer them special programs and benefits not found elsewhere. That is a false reality.
Folks, I get AARP membership info in the mail as well. The life insurance programs are subpar compared to the top senior life insurance products on the market.
If you want the most affordable term life insurance for a senior, simply talk to an independent life insurance agent or broker that works with seniors regularly, understands their needs and has access to all the top insurance carriers. He or she can shop it out for you. Just be sure they work with a good dozen carriers or more so you can be assured you are getting a good price on the policy you need.
Top shelf life insurance policies offer built in assurance including both rate and death benefit guarantees for the length of coverage you select. They also provide guaranteed conversion options should you desire to change to a permanent insurance policy.
Ladies and Gentleman, the AARP term life insurance cost of ownership is not warranted. There is just not any value built into the policy.
Is AARP term life insurance a good deal?
No, it is not.
Not intending to offended anyone, but this is the type of life insurance that comes on a junk flyer in the mail. It belongs in your circular filer. Mail the masses to bypass trained life insurance professionals who would advise against this type of policy.
Do yourself a favor.
Get in touch with a seasoned, independent professional to discuss your life insurance needs and get access to the palette of options available to you.
We are here to help if you would like to discuss your situation with us. We are also a one stop source for all the top carriers and their products for seniors. Phone: 269-244-3420
If you have any comments as to why this AARP term life insurance program would be good value to anyone, be sure to leave this in the comments below. We enjoy and appreciate the feedback.