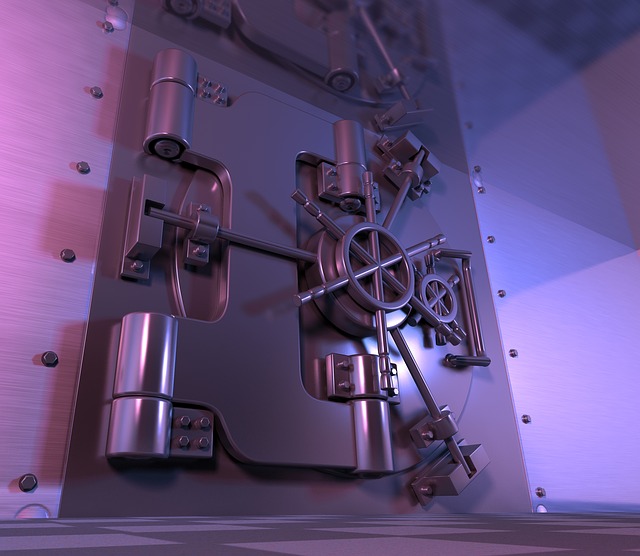 Good Day!! Here to get the scoop on the Funeral Advantage life insurance from Lincoln? If so, you have come to the right place to get the real truth. You're going to learn specifically about the different options in this Lincoln Heritage life insurance review. You made a good decision to check into their life insurance before purchasing coverage.

Buying the wrong life insurance policy can cause financial stress for not only you, but your loved ones. There are no shortage of Lincoln Heritage Life Insurance reviews out there, but after reading this article today, we are confident you will know how to proceed with making the best decision for your needs.
In this Lincoln Heritage Funeral Advantage review, I will cover roughly 5 items.
Lincoln Heritage as a life insurance company. Who are they and where are they located?
Is the Funeral Advantage plan the best final expense insurance for your needs?
How the Funeral Advantage plan works.
What makes this whole life policy different than the other guy (competitors)
Last but not least…The price of their program. Is it affordable or not?
In this article, we will also explain how their plan works, the prices and the various ages and how their premium rates compare with the competition out there.
Finally, we are going to show you how to get final expense insurance for a considerably lower cost than what Lincoln Heritage Life will charge you.
Sound good?
Our Disclaimer: We are not affiliated with Lincoln Heritage Life Insurance Company. As an insurance agency, we do review many insurance companies for the benefit of consumers and our clients alike. Our review will consist of facts and opinions based on industry and professional experience and education. Interested in speaking with Lincoln Heritage directly… they can be reached at 800-438-7180.
If you are looking at Lincoln Heritage for life insurance, we do recommend that you fill out the instant quote tool on this page so you can quickly compare coverage and pricing with all the top final expense companies. You will be quite surprised that there are much better rates than what you may have already been quoted.
So here we go. Not knowing if you have read any reviews of Funeral Advantage life insurance, expect to get the to the truth in this article.
Be sure to hang on because I am bringing the heat!!
Profile of Lincoln Heritage Life Insurance Company
Lincoln Heritage was founded in 1963 by Jack Londen, a life insurance agent. Growing from the first home office being in his personal residence, Lincoln Heritage has developed into a seasoned, final expense life insurance company. Their corporate headquarters are located at 4343 E Camelback Rd. Suite 400, Phoenix, AZ 85018. Their phone number is (800) 433-8181. As a carrier, they sell more burial insurance than any other company in the country. They can be reached on the web at www.ihlic.com, or searched out by using funeral advantage com, or www.funeraladvantage.com.
Funeral Advantage Life Insurance
The Funeral Advantage life insurance program from Lincoln Heritage is based whole life insurance plans that are designed to pay up to $20,000 of the insureds final expenses. The plans are issued and underwritten by Lincoln Heritage Life Insurance company.
Claims are reportedly payed quickly once the death claim has been processed. Upon approval, the policy beneficiary will receive the appropriate benefit amount. The Funeral Advantage policy includes a membership to the Funeral Consumer Guardian Society. The intention of this organization is to help the loved ones arrange the funeral.
Please be mindful of the terms final expense insurance, burial policy, funeral insurance etc. They all mean the same thing. The Funeral Advantage plan is just the product name for a whole life insurance plan designed for seniors.
How Does This Policy Work?
Upon death, whether it is you or another, a certificate of death would be filed with Lincoln Heritage Insurance company with the appropriate policy number and their claim form.
Once this is received, they will process the claim in timely fashion. Be aware, it is standard procedure for insurance companies to investigate the cause of death.
Do not be put off. Insurance companies must rule out claims not covered under the terms of the policy that the policy owner purchased.
Once the claim is found to be valid, Lincoln Heritage will promptly release the funds to the beneficiary.
As a life insurance company, they specialize in final expense coverage so naturally this is where the sales emphasis is.
Are they a large life insurance company like Mutual of Omaha, Transamerica or AIG?
No.
Lincoln Heritage agents are selling the Funeral Advantage life insurance. That is the extent they can offer consumers.
It is important to remember that while Lincoln Heritage may sell the most burial insurance it does not indicate it is the best product.
Many life insurance companies just have a broader market and have several life insurance products including final expense insurance.
Take Mutual of Omaha for example…excellent provider of burial insurance as well as many other life insurance products. Included is a long history of very satisfied people.
What is most important to you right now?
Lincoln Heritage Life Insurance Rates
I told you earlier I was going to bring the heat.
Here is where it all starts.
A Lincoln Heritage Funeral Advantage whole life insurance policy can be more than double the cost of the competition!
Now, maybe your thinking that I am not comparing apples to apples?
You'd be mistaken.
I am actually comparing the Lincoln Heritage final expense rates to numerous life insurance companies that offer the same whole life insurance products.
We are going to put some numbers below for you to see. You'll quickly see that Funeral Advantage rates are not competitive. Be ready to be shell shocked!!
I have selected a comparison quote with Mutual of Omaha because they are a name many people are familiar with and seem to trust.
Yes, they are also very competitive. I like the company as they treat my clientele first class.
And…my favorite show as a youngster was Mutual of Omaha's "Wild Kingdom!"
Getting back on track…
At Maple Valley Insurance Group, we work with dozens of life insurance companies.
We would have to see if they are your best option based on your needs and eligibility.
The tables below have the rates shown for a non tobacco applicant. You must be able to qualify for Mutual of Omaha, but the health questions on the Lincoln Heritage policy are fairly similar.
If you wish to see how other competitors (besides Mutual of Omaha) compare to the Lincoln Heritage final expense rates, you can use the final expense quoting tool on the right to receive instant quotes from roughly 25 carriers in the funeral insurance business offering whole life insurance for seniors like the Funeral Advantage plan.
Please note that the rates provided below have qualifications:
Rates are for a Non-Tobacco individual
The applicant must be able to answer "No" to all of Lincoln Heritage Life's medical questions.
No prescription medications you have been prescribed reside on their "Modified Prescription" list.
Male Rates Per Month
Age
Lincoln Heritage

$10,000 Policy
Mutual Of Omaha

$10,000 Policy
Lincoln Heritage

$20,000 Policy
Mutual Of Omaha

$20,000 Policy
50
$41.10
$29.16
$60.15
$42.13
51
$42.50
$30.30
$62.25
$43.85
52
$44.00
$31.12
$64.50
$45.08
53
$45.40
$32.20
$66.60
$46.70
54
$46.90
$33.61
$68.85
$48.81
55
$48.30
$35.09
$70.95
$51.04
56
$50.50
$36.45
$74.25
$53.08
57
$52.70
$37.91
$77.55
$55.26
58
$54.80
$39.27
$80.70
$57.30
59
$57.00
$40.82
$84.00
$59.62
60
$59.20
$42.76
$87.30
$62.53
61
$61.00
$45.38
$90.00
$66.47
62
$62.70
$47.90
$92.55
$70.25
63
$64.50
$50.52
$95.25
$74.17
64
$66.20
$53.14
$97.80
$78.11
65
$68.00
$55.76
$100.50
$82.04
66
$71.70
$59.35
$106.35
$87.42
67
$75.40
$62.93
$111.60
$92.80
68
$79.00
$66.53
$117.00
$98.19
69
$82.70
$70.11
$122.55
$103.57
70
$86.40
$73.70
$128.10
$108.95
71
$93.80
$78.36
$139.20
$115.93
72
$101.20
$82.92
$150.30
$122.78
73
$108.70
$88.01
$161.55
$130.42
74
$116.10
$93.16
$172.65
$138.13
75
$123.50
$99.53
$183.75
$147.69
76
$135.40
$106.87
$201.60
$158.70
77
$147.40
$113.64
$219.60
$168.86
78
$159.30
$119.86
$237.45
$178.18
79
$171.30
$126.23
$255.45
$187.74
80
$183.20
$132.65
$273.30
$197.38
81
$186.70
$143.00
$278.55
$212.89
82
$190.30
$153.54
$283.95
$228.71
83
$193.80
$163.41
$289.20
$243.52
84
$197.40
$173.28
$294.60
$258.32
85
$200.90
$183.15
$299.85
$273.13
Female Rates Per Month
Age
Lincoln Heritage

$10,000 Policy
Mutual Of Omaha

$10,000 Policy
Lincoln Heritage

$15,000 Policy
Mutual Of Omaha

$15,000 Policy
50
$33.90
$24.67
$49.35
$35.40
51
$34.80
$25.45
$50.70
$36.58
52
$35.70
$25.88
$52.05
$37.22
53
$36.70
$26.62
$53.55
$38.33
54
$37.60
$27.47
$54.90
$39.60
55
$38.50
$28.40
$56.25
$41.00
56
$39.80
$29.27
$58.20
$42.31
57
$41.00
$30.06
$60.00
$43.48
58
$42.30
$30.83
$61.95
$44.64
59
$43.50
$31.70
$63.75
$45.95
60
$44.80
$32.87
$65.70
$47.70
61
$47.30
$34.51
$69.45
$50.17
62
$49.80
$36.06
$73.20
$52.49
63
$52.40
$37.72
$77.10
$54.98
64
$54.90
$39.36
$80.85
$57.45
65
$57.40
$41.01
$84.60
$59.91
66
$61.00
$43.44
$90.00
$63.56
67
$64.60
$45.86
$95.40
$67.19
68
$68.10
$48.29
$100.65
$70.84
69
$71.70
$50.81
$106.05
$74.61
70
$75.30
$53.24
$111.45
$78.26
71
$80.50
$56.63
$119.25
$83.34
72
$85.60
$60.12
$126.90
$88.58
73
$90.80
$63.93
$134.70
$94.29
74
$95.90
$67.78
$142.35
$100.07
75
$101.10
$72.41
$150.15
$107.01
76
$109.90
$78.25
$163.35
$115.77
77
$118.70
$83.51
$176.55
$123.66
78
$127.40
$88.44
$189.60
$131.06
79
$136.20
$93.41
$202.80
$138.52
80
$145.00
$98.43
$216.00
$146.05
81
$150.30
$106.21
$223.95
$157.72
82
$155.60
$113.96
$231.90
$169.33
83
$160.90
$121.31
$239.85
$180.36
84
$166.20
$128.55
$247.80
$191.23
85
$171.50
$135.90
$255.75
$202.25
So what is your reaction to the monthly rates of the Funeral Advantage Life Insurance Plan? If you did the math, it is easy to see how you could get drastically overcharged. Thousands of dollars over a few short years.
Ask yourself…is the Lincoln Heritage final expense policy really better than the same thing issued by Mutual of Omaha? I think most of us know the answer.
If you took the time to use the free final expense quote tool on this page, you found out that the vast majority of life insurance companies offering burial insurance are going to keep your extra money where it belongs…in your bank account.
Are you questioning how a life insurance company survives being so expensive like this?
Well, it comes down to aggressive marketing and persistency with it. There is a strong need for final expense insurance out there. More than likely, you are one of those people considering their insurance for your own reasons. Lincoln Heritage wants their funeral advantage plan to be the solution to something you want taken care of.
So, Lincoln Heritage insurance aggressively recruits salespeople to market their insurance products stressing what a market share they have for burial insurance. They train prospective sales people/agents to market their Funeral Advantage plan by selling a bonus not found in the actual policy.
So what is the "bonus" I'm talking about? Well, it is just a fancy bow on an expensive senior life insurance policy. The "bow" is a membership with the FCGS. I will discuss "the fluff" later in the article.
Let's keep pushing forward.
Lincoln Heritage Funeral Advantage Gets a Sudden 3X Pay Raise!
What if I told you the Funeral Advantage final expense rates you saw above are the best case scenario with life insurance products from Lincoln?
Would you believe me if I told you they could go up an additional 3 times?
That's right, multiply the above premium rate per month times 3!!
To make the situation worse, the Funeral Advantage Program for seniors could stick you with a waiting period on the policy before it will pay out the full death benefit.
Why?
You see, if you are medically diagnosed with certain medical conditions, Lincoln's underwriting will red flag you and only offer you their Modified Whole Life insurance.
Ok. What's so bad about that?
Good thing you are reading some Funeral Advantage reviews!
Here is where people get real upset. Whether they were high pressured into buying or didn't realize all the better options available to them at the time, most Funeral Advantage consumers are shocked by how they had overpaid or would have to pay for life insurance from Lincoln.
If you are tight in your budget, getting hit with costs 2 and 3 times the industry standard just isn't going to cut it at all. Even Guaranteed Acceptance life insurance from the likes of AIG is not that expensive. That final expense product is typically used for people with very poor health, even terminally ill. It has no health questions at all.
How does the Lincoln Heritage Funeral Advantage program help seniors on a fixed income?
I'm not seeing or hearing it.
Seniors I speak with on a daily basis are concerned about affordability long term. As of 2021 we have seen massive inflation step in. No one is more impacted than those people who live on a fixed income and on a tight budget.
Health Issues That Raise the Red Flags and Place You In: The Lincoln Modified Plan
If you have one of the following conditions and elect coverage with Lincoln Heritage, you will only have 1 option with them…The Modified Plan. That will result in a 2 year limited benefit period before for full coverage. You will also be receving a much higher, permanent premium which I will illustrate in the table below.
Now, here are the knockout questions that the company uses to evaluate you as a risk: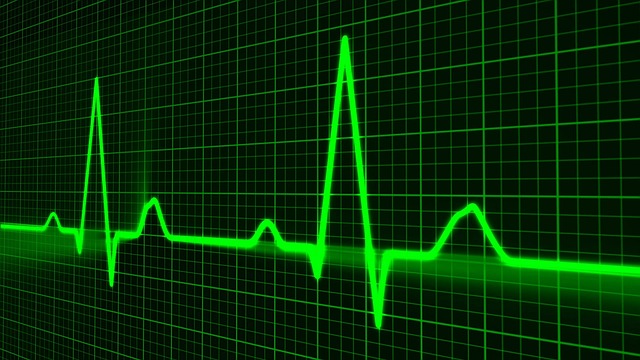 Stroke
Heart Attack
TIA (Transient Ischemic Attack) or Mini Stroke
Circulatory Surgery (Stents, Bypass, Angioplasty)
Aneurysm
Blood Clots
Heart Surgery
Irregular Heartbeat (AFib)
Peripheral Artery Disease
Pulmonary Hypertension
Blood Thinner Medication and Heart Medication (high blood pressure medication ok)
If you have had any of these conditions/medications, Lincoln Heritage life insurance is going to dip into your back pocket or purse if you want what they are offering.
All of these medical conditions above are acceptable with the companies we work with. There is no outrageous discrimination. That's right, no two year waiting period nor a 3X payday!!
For those that clear that Lincoln Heritage screening test, here comes the next batch. You also can only qualify for their Modified funeral advantage plan if you have:
Kidney Disease
COPD
Chronic Bronchitis
Hepatitis
Tuberculosis
Cystic Fibrosis
Diabetic Related Blindness
Cirrhosis of the Liver
The list just keeps going on and on, cherry picking who isn't going to get financially hammered!!
Will The Lincoln Heritage Funeral Advantage Program For Seniors Pay Claims in 24 Hours?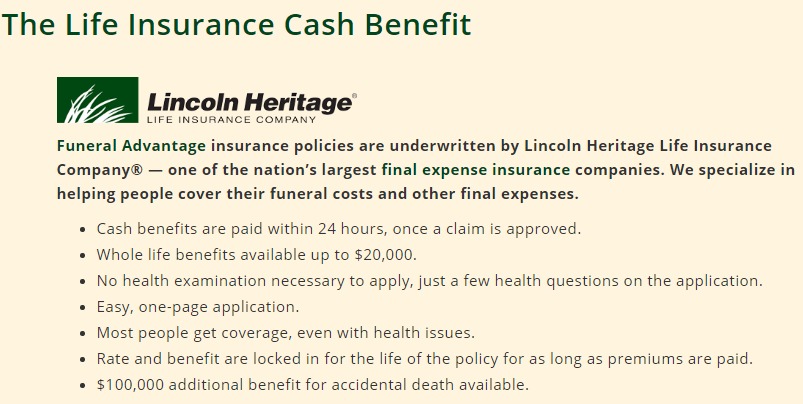 Take a look at the first bullet point of the sales literature from above for the Funeral Advantage plan. It highlights that Lincoln will pay claims in 24 hours. That statement is followed with "once a claim is approved."
So a consumer looks at this and says…wow…that it fast!!
We must look deeper to see the reality of the claims process.
The key phrase is… once it's approved.
That is how life insurance works. There is an approval process at claim time. While final expense coverage is designed to move quickly, an investigation is conducted after receipt of certificate of death.
Insurance companies don't simply send out $10,000 within 24 hours because someone makes a phone call.
All good life insurance companies pay claims promptly after the death certificate and investigation is completed to verify the terms of the policy have been met. 24 hours indicates they are responsive but they still have their procedures they will follow before benefits are paid out to your loved ones.
You're probably clear now that there is no way a claim against this policy can be paid with 24 hours of the insured passing on.
Claims issues arise with all insurance companies even with big companies like Transamerica. Just be aware that Lincoln's claims process is not revolutionary. Be leary of marketing promises of an amazing claims process that gets everyone paid faster than everyone else. It does not happen like that in the real world. Death certificates can take much longer than expected. The funeral home is best at accelerating this for your family. They want to be paid by your policy as well.
Understand that the impression one may be given by the sales material on their website or verbally thru a sales agent of Lincoln Heritage is thru rose colored glasses.
Be very astute here, you are being asked to pay well above the going rate for senior whole life insurance, period.
Their marketing tactic are used to encourage people to pay a much higher premium. It has no assurance or guarantee of "perceived" value beyond the whole life insurance policy.
The policy you purchase and pay for is what guarantees money to your loved ones not the "value" bonuses that are not written in the actual policy.
The bottom line, no one told you that you that your loved ones would be paid in 24 hours did they? The marketing is trying to put a spin on the normal course of business that any reputable life insurance company uses.
Since the marketing is in no way a legal binding agreement like any life insurance policy is, what is not in written in that policy is just "talk."
Until the marketing claims are written into their whole life insurance policy, it is nothing but an overpriced policy that is much more affordable elsewhere.
Most life insurance companies starting claims processing 24-48 hours after the necessary documentation of death has been submitted to them.
Lincoln Heritage Life Insurance Company is not doing much beyond the scope of other senior final expense insurance carriers.
Beware of old fashioned sales gimmicks as you ponder the high cost of their life insurance policy.
The Funeral Advantage Program For Seniors Is Expensive Isn't It?
In this section I am going to ask you a direct question.
Do you have interest in a company if they are not priced competitively with the top life insurance companies offering the same policy benefits?
If you're not sure and haven't run the final expense quote tool on this page, make sure to do that now. Look at the Lincoln Heritage life insurance rates from above alongside all of the carriers that don't apply marketing fluff.
Yes, some of them like AIG, Mutual of Omaha and Transamerica…they pull plenty of people due to the big name and good overall reputation.
Don't be taken advantage of ladies and gentlemen.
There is a reality of when a death claim is filed with any burial insurance company. No one will likely be paid in 24 hrs. by any life insurance company due to the nature of the investigative process and paperwork. It takes time for the death certificate to be issued by the county.
The Funeral Consumer Guardian Society Membership – FCGS
Earlier in this article, I referred to the FCGS. This stands for the Funeral Consumer Guardian Society. I chose to leave this for the tail end of this Lincoln Heritage life insurance review because it really steps outside the insurance itself. It is the shiny bow to deflect the consumer from seeing the better options out there.
On the FCGS website they suggest they are an independent senior advocate organization. They have no connection with a particular religion, cemetery, funeral home etc.
Interesting, after 2015, the FCGS no longer allowed just anyone to obtain membership.
Oddly enough, the only way now to obtain membership in the FCGS is to buy a Lincoln Heritage life insurance policy.
These days, Lincoln Heritage agents are trained to pitch how great this bonus is…the FCGS. Because the Funeral Advantage rates are so high, they have to have a pitch, right?
What Are the Benefits of the FCGS?
There are four different benefits touted as part of the FCGS membership. Take a look and see what you think.
Funeral Planning Assistance
Under this benefit, you will receive a written document that lays out your wishes on how you want your funeral carried out. You loved ones will have a preset plan in place since the decisions at the time of death require snap decisions and may add to their emotional stress.
The written documents will simply have you fill out information like:
Would you like to have a traditional burial or be creamated?
Would you like a viewing or not?
What type and color of flowers do you want?
Is a certain type of music more appropriate?
etc..
These questions from the document deal with the moving parts of planning a funeral. You complete the form and send it back to the FCGS where it is filed away.
Our Feedback on this benefit…
Getting your final wishes preplanned is a good thing to do. I know it is hard for some people to really handle, but your loved ones will really appreciate it.
This is a great idea but you don't need the FCGS. You can do this yourself.
What we have recommended for over 20 years is to take your final expense policy down to the funeral home of choice and make the arrangements. The funeral home has all the forms needed. They will write down all the plans and wishes for you after discussing it. Attach you arrangements it to your final expense policy for your beneficiary(s) benefit. You may advise your chosen funeral home you have a burial policy to fund the funeral. This is a much better financial approach than overpaying for a Lincoln Heritage life insurance policy.
Now, The funeral home alreadywhen your day comes, the funeral home knows what your final wishes are. The life insurance company provides the resources and the funeral home knows where the money is coming from to cover your funeral wishes. Your only job, keep up your payment on your policy.
If you don't want to do this with a funeral home, here are the planning docs you would need. Print them out and work at them at your leisure. Attach them to your final expense policy.
Funeral Funding Information
This benefit gives your beneficiary a contact at the FCGS when the final expense money is needed to pay the funeral costs. The thing is, the FCGS just calling Lincoln Heritage instead of the person you assigned to handle your final wishes. Why not just call Lincoln Heritage directly to get it done right away?
Sorry, not a benefit at all in my opinion.
Funeral Plan Security Service
Remember the funeral planner docs from above? Well if you send the FCGS docs back to them, they will scan your plan into their computer. It will become available to your family by a special coded identification card they issue.
Sounds great doesn't it?
The alternative suggested previously…have it everything preplanned at the funeral home and have them attached it to your final expense policy. Wouldn't your family have immediate and secure access to it?
Why is the FCGS valuable here?
Funeral Plan Activation Help
This feature allows the loved one handling your funeral to notify the FCGS of death. The FCGS will notify the funeral home you chose and give them the arrangements from the planning documents that you sent back to them. The claim is that may be able to find some discounts if the costs are out of the ordinary.
On the Lincoln Heritage website, they suggest it saves the average family $1800 on a full funeral. $600 was estimated for cremations.
This one rubs me the wrong way.
This benefit is really pushed by Lincoln Heritage agents to help build value in you paying very high insurance premiums. While they may negotiate on your families behalf there is no guarantee of savings. Again, none of this is written in the policy. Nothing legal and binding to the Funeral Advantage plan at all. While this maybe best intentions, your family could be saving zero in reality.
So let's us say that the FCGS saves $1800 for a full funeral that would have costed $10,000 in your state.
Would you really want to pay anywhere from 20% up to even 300% additional in monthly insurance premiums to possibly save $1800?
If you look at the math, it does not make much sense. The high monthly premiums you pay to Lincoln Heritage Life Insurance can eat the discount the FCGS may be able to negotiate very quickly.
Why go thru all that?
Recap: Our Review of Life Insurance from Lincoln Heritage
So by now you're probably a little taken back at how easy it is to get gouged with Lincoln Heritage life insurance. The Funeral Advantage plans just do not fair well against the competition on a cost basis. If you looked at the monthly rates above, imagine the difference over several years compared to Mutual of Omaha. That is huge. If you have not already, use our free, instant quoting tool right here on this page and find out who really has the best prices on whole life insurance for people 50-85.
The value added with the FCGS is small at best. There are other life insurance companies that pile on more bonuses that the FCGS does not provide you. Everything from legal services for a living will, dental discounts and more. They are all priced better, consistently.
Is it worth overpaying hundreds or even thousands of dollars a year for the same thing from the top competitors on the market?
If you had to drop the Lincoln Funeral Advantage life insurance due to the high monthly cost due to inflation, how does that help your loved ones?
Most people we have talked to drop life insurance over the cost, not because they don't think they need it. Those who don't purchase it self insure final expense costs themselves, purchased a prepaid burial or left it up to their families to figure it out.
Is it even remotely reasonable for Lincoln Heritage to expect a consumer on a fixed income to pay 2 to 3 times more money than the top life insurance companies out there?
In the humble opinion of this veteran agent, NO!! There are many excellent carriers with good service, you just need to consult with an independent life insurance agent who knows the senior market.
With the underwriting standards they use to make policies available to seniors, one would not expect to be in the top of the most expensive burial insurance companies.
Is Funeral Advantage From Lincoln Heritage Legit?
Yes, absolutely. Lincoln is very serious about the final expense life insurance market. The company itself is well established and legitimate. This is what they do. "Funeral Advantage" is just a name for the whole life insurance policies they sell to qualified applicants. Other life insurance companies use names such as "Living Promise" or "Living Legacy" for their no exam whole life insurance products just like the Lincoln Heritage Funeral Advantage plans. What is written in any whole life insurance policy is what matters the most.
This does not mean I can give the Funeral Advantage plans a thumbs up. Yes, they pay their claims like any other reputable life insurance company but that is where it ends.
The best "funeral advantage" plan life insurance consumers can buy starts with saving money upfront and offers first day, full benefits. Work with your preferred funeral home and prepare the last wishes, document it and have the funeral home attach it to your whole life policy or bring home the arrangements and add it to your policy yourself.
Sock the prepared policy and arrangements in your fire safe or a ziplock bag and place it in your freezer. Nothing is easier on your family!! It will be remembered and easily found in either place.
It is done.
Those are your handmade arrangements. You were able to pick out just what you would like rather than burdening the family with calling for help from the FCGS and hoping they might be able to negotiate a lower price.
The FCGS is mute point if you already sat down with the funeral home years before. You saved a lot of money in the process and able to afford more life insurance to take care of your loved ones in your absence if you elect to.
Lincoln rates for Funeral Advantage are expensive! You can buy thousands of dollars in additional coverage for the same premium you would be paying them each month.
Lincoln Heritage insurance rates? There is no value in overpaying this insurance company.
Where do you want your money to go to…the insurance company or your loved ones?
With the FCGS business…Your family will lose access if you are not with Lincoln Heritage as a policy owner down the road. You've stored your policy and any preplanning arrangement you would like in a nice, new fire safe that you can now easily afford. A fire safe will keep it all organized were it needs to be to when that final day comes. Contact numbers, your policy including your arrangements all in one secure box.
There are several life insurance companies which have some nice "marketing" features outside the policy itself. Features like Living Will preparation. Yes, some life insurance companies have legal departments that can help you put a Legal Will in place…for free. It is a benefit provided by the company as thanks for being a paying policyholder.
If you like the idea of having a premium funeral planning service to arrange your funeral and offer completely arranged services on behalf of your family during a very difficult time of their life, give us a call. We work with the top company in the business.
Sequoia Funeral Concierge is the best in the industry. Don't believe you have to overpay for affordable, final expense whole life insurance to have "the best" for your family's needs. It simply not the case for most people.
Lincoln Heritage Review Conclusion…
Ladies and gentleman, I do not have an ax to grind beyond the cost versus the benefits of the Lincoln Funeral Advantage plans. I said it early on in this Lincoln Heritage review that I was bringing the heat.
However…
You may be wondering why I seem to know so much about Lincoln and how this all works. If you hadn't guessed it, I used to work with the company. They came into a large independent agency I used to work for and recruited me to work with their interested life insurance consumers.
My review is not hearsay or just research, it is from real experience in field.
I've always been an independent agent/broker, but a Lincoln recruiter asked me to give the company a chance.
I agreed, before I saw the Funeral Advantage rates.
Yes, it was a short stint.
This was probably 1999 or 2000. It has been a while so I'm not able to be specific.
I actually went out in the field with the zone manager of the company to visit people who wanted to purchase final expense insurance from their company.
On those calls, I watched him take applications from multiple seniors.
What I promptly noticed – The amount of protection these applicants wanted to purchase was too expensive for their budget. Instead of buying a $7,000 policy, they purchased $5,000. I observed people who just would not buy because their budget could not even afford a minimal policy amount. All of these households had sent in a card for the Lincoln Heritage Funeral Advantage life insurance indicating clear interest. Most were overwhelmed by the high cost of Lincoln's whole life insurance.
Sitting thru all these cases, I knew there was a real problem with all the Funeral Advantage plans.
In the end I realized that Lincoln Heritage life insurance products were not going to work out for me. I just did not see value in the product compared to other companies I worked with.
With Lincoln Heritage life insurance, there is nothing that stands out above the competition. The FCGS simply is not worth hundreds of dollars a year and the policy is no better than any of the top final expense life insurance companies.
Lesson learned for me and hopefully for you today.
Make sure you are doing business with an independent professional who knows this business inside and out and has access to all the best life insurance options for you.
Be very careful of marketing hype. It can cost you and your loved ones dearly. Having the best benefits written in the insurance, the right size policy amount and affordability should be your focus. No sense in buying something that is going to take food off the table or potentially leave your family without full protection, right?
Reputable life insurance companies typically have claims processing start promptly after receiving a death claim. The funeral home can help expedite the death certificate if your county is slow. They have incentives to do so. Further, they accept assignment of life insurance benefits to cover the cost of your funeral or cremation.
Not knowing how many Lincoln Heritage Funeral Advantage reviews you have read, I'll leave you with this…
Lincoln Heritage Funeral Advantage plans do come from a reputable carrier. They will pay their claims just like many many other life insurance companies. The problems with Lincoln plans revolve around cost and the health underwriting (health history evaluation).
I find it hard to see how the general high costs and difficult underwriting of funeral advantage assists seniors to manage on a fixed income.
One other concerning issue I have as an independent agent…the Lincoln Heritage Funeral Advantage program has a maximum policy amount of $20,000. While this amount is plenty adequate for a full funeral and burial in 2023 in the vast majority of the country, it is not going to be adequate in 15 or 20 years.
When buying final expense life insurance, your goal should buy enough protection to cover you into the future. While you could potentially purchase more coverage later, it would based based on your age and health at that time. With that said, could you be around in 2030, 2040? This is something that Lincoln needs to take into consideration with their Funeral Advantage life insurance. I frequently sell policies for final expense needs of 25K or more. This protect my clients families for the ever rising funeral costs now compounded by extreme inflation.
FYI – The top final expense whole life insurance companies frequently offer whole life policies of even $50,000 or more and at a much lower cost per thousand dollars of protection.
If you've read other Lincoln Heritage life insurance reviews on the web, you have already found out that you need to shop your life insurance carefully. Make sure you find an independent agent/broker who can shop your needs and health out for the best coverage and at an affordable price point.
Hope our review of Lincoln Heritage Funeral Advantage life insurance has been insightful for you.
For further help or to know your best options…let's talk. Phone: 269-244-3420
As always…feel free to comment below.